Melania Trump isn't the first first lady to perfect her pose for the camera, but she is the first one who evolved from professional model to White House resident.
The Slovenian-born beauty once posed for GQ and Sport's Illustrated — now she poses for press conferences and national portraits. Melania never thought she'd be the FLOTUS, and we never realized all of her old modeling pictures we'd forgotten about, including the one photo shoot many were surprised she did (page 5).
1. Posing for Redbook in 2000
Melania was once part of a fun and care-free photoshoot with Redbook Magazine. | Redbook
Before she was Melania Trump, Melania Knauss was a Slovenian model working in New York City in hopes of her big break. She posed for magazines, including Redbook, a woman's lifestyle magazine owned by the Hearst Corporation.
Redbook photographed Melania in leather pants, sparkly holiday gear, and seasonal red clothing for their holiday issue.
Next: She posed at one of the Trump properties.
2. Modeling at Mar-a-Lago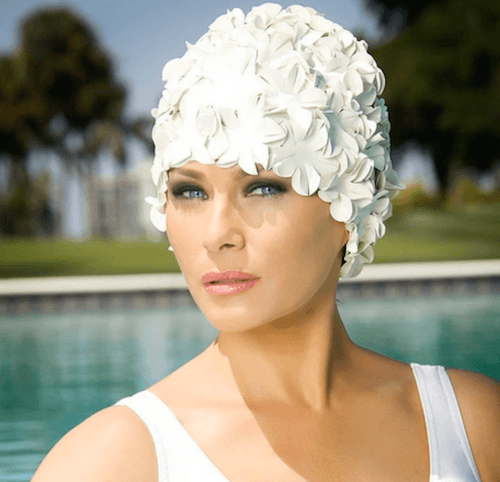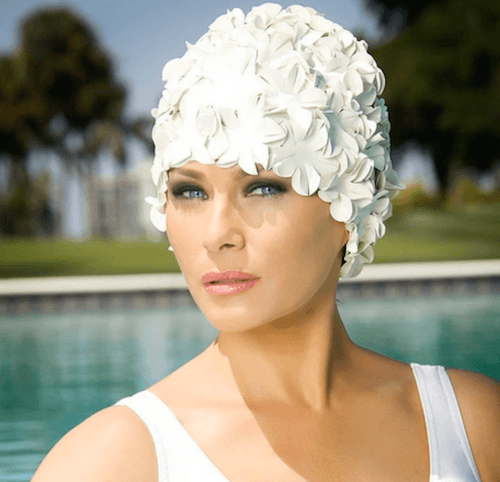 This photoshoot was dreamy. | Free Music Online via YouTube
Melania channeled her former career for a 2011 photo shoot at the Trump's "winter White House," Mar-a-Lago, in Palm Beach. She posed in the luxurious pool wearing an antiquated all-white swimming cap, Chanel swimwear, and even floating on a blow-up swan.
Mar-a-Lago has become a frequent get-away for the Trumps, specifically Donald. He's taken upwards of 17 visits to the club since he assumed office.
Next: It was an honor as a model to make this magazine
3. Posing at a Sports Illustrated party
Melania made appearances at Sports Illustrated magazine launch parties. | cjmiller1974 via Twitter
Melania modeled for the Sports Illustrated Swimsuit issue in a series of beach shots in 2000 and scored an invitation to the issue's release party. The swimsuit edition is Sports Illustrated's best-selling issue each year.
In the photo above, Melania posed in front of the cover photo for the 2000 issue. While she'd attended in previous years — Donald Trump frequented the event — Melania was celebrated as a model in the issue.
Next: She was seated with the industry's elite for fashion shows
4. Sitting front row at Vera Wang
Melania Trump frequented coveted fashion week shows. | Peter Kramer/Getty Images
Melania was a frequent face during New York Fashion Week in 2005. The close-up above shows a smoldering Melania at the Vera Wang show where she sat front row.
The model sat front row at multiple shows that year including designers J Mendel and Michael Kors.
Next: Many questioned how Melania obtained her visa after this photoshoot
5. Her British GQ shoot
This photoshoot might just be her favorite modeling gig. | British GQ via Instagram
Melania and Donald, her boyfriend at the time, joined magician David Copperfield to celebrate his 45th birthday at the GQ lounge in New York City. Two years before, Melania had posed for GQ magazine wearing handcuffs on Donald's Boeing 727 wearing nothing but diamond bracelets.
Melania's White House biography calls this photo shoot, among others, one of the first lady's "greatest achievements."
Next: She used to grace magazine covers in couture
6. Her Vogue cover
The gown was elegant and expensive. | AdamantxYves via Twitter
While Melania has avoided magazine covers since taking on her role as the first lady, she used to grace the covers of prestigious publications like Vogue.
In 2005, Vogue made Melania Knauss — and her forthcoming wedding to real estate mogul Donald Trump — its cover story alongside a photograph of the model. She wore her Christian Dior commissioned couture gown on the cover.
Next: Back in the day when the Trumps were known for real estate and reality TV…
7. Oscar de la Renta
They always made appearances at big fashion events. | Scott Gries/Getty Images
Melania and Donald frequented fashion shows back in the days of Trump Tower and The Apprentice. Donald and his then-girlfriend were photographed leaving the Oscar de la Renta Fall/Winter Collection show in 2003, just a year before The Apprentice premiered.
Sure, she still spends tons on her clothing. But Melania was looking like a true model in an all-white ensemble with a patterned fur coat overtop.
Check out The Cheat Sheet on Facebook!
Source: Read Full Article