Unless you're in the one per cent of people who look good in Lycra (I'm not), gyms might not be for you. I was excited to hear about another option – a way to get fit in wellies and a jumper rather than in humiliating spandex.
It's an overcast day on an estate in the village of Kingsnorth. I've joined the Ashford Green Gym in Kent, which runs every Monday morning. There are 17 of us here, a mix of ages although strappingly healthy people in their 60s are particularly well represented.
Today we're coppicing: cutting down young trees near the base to encourage new growth, biodiversity and to ensure that the sun reaches a light-starved pond in the centre of the wood.
Green Gyms neatly dovetail physical workouts with practical conservation. They've been running since 1997, with the aim of improving health, boosting confidence and benefitting local green spaces. There are more than 100 of them around the country, putting 150,000 participants through their paces.
But how can conservation compete, calorie-burning-wise, with cross-trainers? "No chainsaws," explains Pete Walkden, who runs the group with his wife, Sophie. Green Gyms avoid labour-saving devices, relying on traditional techniques and labour-adding handtools. It does sound a little bit like community service for a crime I didn't commit, but I'm still game.
I take up my secateurs with gusto, though without skill. It's undeniably fun messing around with big scissors, though one branch does land on my head. Activities at Green Gyms vary through the year. Many projects come courtesy of the local council and Woodland Trust, who enlist the group's help in mending paths and fences, digging drainage ditches, picking litter, and taming cemeteries and manor grounds.
Never mind all that: if I swap my gym for gardening gloves, how will I achieve my long-sought six-pack? According to Maureen Pallant, a white-haired lean-looking woman, by raking. "You have to tighten your core – great for abs. And your bottom," she adds, handing me a rake.
Over a quick cheese scone and tea with biscuits, I get to know the rest of the group. Will, who is 23 and looking for employment, reckons he has lost at least 9lbs in the year he has been attending Ashford's Green Gym.
The work is certainly physically demanding. An Oxford Brookes University study found that an hour of some Green Gym activities burned a third more calories than the average step aerobics class, and retention rates are high: 70% of participants were still active in the scheme after six months.
Around the now-visible pond, teams have formed, beating back brambles, removing pond debris. The feel of communal gardening is pre-modern, wired into our social DNA. And there's something calming about working on the land. Under the group's tuition, I begin to see beyond "tree", identifying hazel, birch, cherry, oak.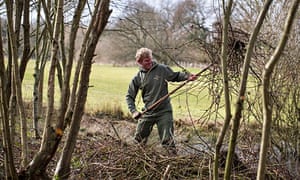 "You discover what's around you. We found and restored a nature reserve right next to where I live," says Julie Beale. "The other week we did the grounds of a hospice. You do go home thinking 'I've done something good.'"
I am attempting to singlehandedly fell a young elder. My pruning saw resembles a bread knife, and after 10 minutes of rasping through hard fibre, my strength has given out. "You can do this," encourage the women gathered around me. Because they're all watching, I keep going, grimacing. Eventually I saw through, and there is a cheer. I hoist the conquered trunk and stagger to the bonfire, throwing it on with a roar. I feel like Rocky Balboa. The tree rolls back down the pile and on to my foot.
Still, we achieve a lot by late morning, thinning out most of the overgrowth. As if waiting for this moment, the sun breaks through the cloud and dazzles the water. The group take in the scene, sharing the moment's satisfaction. "Spring is the best time," muses Pete. "Projects you've been working on through winter suddenly bloom."
By the afternoon, I'm dishevelled, mud-caked and exhausted. I try to tell myself that's OK, but around me, women literally twice my age continue to haul huge trees to the pile and throw them on nonchalantly. I feel embarrassed and just a little inferior – come to think of it, very much the way I do in any gym.
Source: Read Full Article