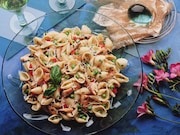 WEDNESDAY, Aug. 1, 2018 — A Salmonella outbreak linked to Hy-Vee Spring Pasta Salad has now sickened 79 people in nine states. Eighteen people have been hospitalized. No deaths have been reported, the U.S. Centers for Disease Control and Prevention says.
Illnesses associated with the outbreak began on dates ranging from June 21 to July 15, 2018. Hy-Vee removed Spring Pasta Salad from all of its stores on July 16 and recalled the product on July 17.
The recalled pasta salad was sold in 1-pound (16 oz.) and 3-pound (48 oz.) plastic containers or scooped at the deli counter into clear plastic containers. The containers have expiration dates ranging from June 22, 2018, to Aug. 3, 2018.
"Salmonella enterica subspecies IIIb has been added to this investigation because two people were infected with this strain of Salmonella and with the outbreak strain of Salmonella Sandiego at the same time," according to the CDC. "A search of the CDC PulseNet database found six additional people infected with the strain of Salmonella enterica subspecies IIIb and these cases have also been added to the outbreak."
FDA Recall Notice
CDC Food Safety Alert
Posted: August 2018
Source: Read Full Article