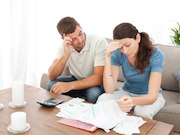 THURSDAY, July 5, 2018 — In the United States, heart disease can ruin a poor family financially even if they have health insurance, a new study finds.
One in four low-income families with someone suffering from coronary artery disease had out-of-pocket costs that were far beyond their means, researchers found. And these families were three times more likely than middle- or high-income families to have these high financial burdens.
"We need to focus on the health insurance offered to these families," said lead study author Dr. Rohan Khera. He is a cardiology research fellow at the University of Texas Southwestern Medical Center in Dallas.
"We have to work on ensuring that insurance achieves the goal that it sets out to achieve," he added.
Private health insurance was the main cause of high out-of-pocket costs, including premiums, copays, deductibles and essential medications, Khera said.
These costs were especially high for people who bought insurance for themselves. Those insured by their employer or Medicaid fared better, he said.
Although the Affordable Care Act (Obamacare) put limits on out-of-pocket spending, these caps don't reflect the financial reality of low-income families, Khera said.
The problem will get worse if the Affordable Care Act is weakened and premiums, copays and prescription costs continue to rise, Khera explained. Moreover, millions who have health insurance will lose it.
"Even worse, people may forgo care," he said.
Khera pointed out that heart disease is a chronic condition that requires constant care, so the costs go on and on, with no relief for tight budgets.
Using survey data from 2006 through 2015, Khera's team identified more than 22,500 adults with heart disease in 20,600 families.
Among this group, the average annual family income was $57,143. Their average out-of-pocket expense: $4,415, according to the report.
For one in 10 low-income families, medical costs related to heart disease consumed 40 percent of their annual available income, causing a financial catastrophe, the study authors said.
Moreover, the odds of a catastrophic burden were nine times higher for low-income households than among middle- and high-income families, the findings showed.
For all families caring for someone with heart disease, insurance premiums and prescription drugs are the biggest health care costs, Khera said.
In 2014 and 2015, nearly 22 percent of low-income families with health insurance experienced high financial burden, and nearly 10 percent had catastrophic out-of-pocket costs, the researchers reported.
Dr. David Katz, director of the Yale-Griffin Prevention Research Center in Derby, Conn., said, "Compared to nearly all peer nations around the world, health insurance coverage in the U.S. is frugal, patchy, contentious, and for many, begrudging."
This study clearly demonstrates how such "dysfunction and discord conspire to add the insult of financial desperation to the injury of cardiovascular disease," Katz said.
Unfortunately, he added, nearly all the news in the study is bad.
"Rates of cardiovascular disease, an almost entirely preventable condition, are alarmingly high. Rates of poverty are higher still, and even more alarming. And insurance coverage — while entirely absent less often than before the Affordable Care Act — is all too often inadequate," Katz said.
Medical advances won't fix this toxic situation, but policy changes can, he noted.
"The reward for surviving heart disease should be something other than destitution for one's family," Katz said.
The report was published online July 3 in the journal JAMA Cardiology.
More information
The Kaiser Family Foundation has more about health care costs for the poor.
Posted: July 2018
Source: Read Full Article