A local ob/gyn is one of the medical providers who will not be held liable in a birth-related suit brought by two Brattleboro, Vermont, residents, reports a story posted on VTDigger, a nonprofit news platform serving the Green Mountain State.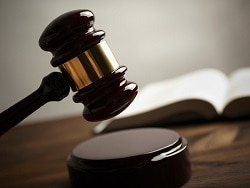 On March 23, 2015, Jessica Mayotte, who was pregnant, visited Brattleboro Memorial Hospital after feeling contractions and experiencing bleeding. As a teenager, Moyotte had suffered paraplegia as the result of a spinal cord injury. At Memorial Hospital, Mayotte's providers, including her ob/gyn, measured her contractions and dilations and sent her home. The patient was instructed to return if needed and to keep her scheduled March 25 appointment. After arriving back at her Brattleboro home, Mayotte fell asleep.
The following morning, she awakened, "horrified to see that [her newborn son] Michael was laying [sic] next to her, and that he appeared lifeless," according to her later complaint. The motionless baby was rushed to Memorial Hospital, where he was pronounced dead.
Claiming that the standard of care had not been followed, the Mayottes sued Jessica's treating team, including her ob/gyn, a certified nurse midwife, and an RN, along with the hospital.
At trial, an attorney for the defendants argued that the standard of care had in fact been followed. Among other things, the medical team had referred the patient to an expert in paraplegic deliveries, who said Mayotte would likely feel the sensations of labor. That she ultimately did not feel those sensations, argued the defense attorney, was evidence not of negligence but of the "unpredictability of medicine."
The jury agreed, finding that the plaintiff and her legal team had not met their burden of proof. In a unanimous decision, it dismissed all complaints against the ob/gyn and the other providers and absolved the hospital of any corporate liability.
In a statement following the verdict, the hospital's chief medical officer said: "The loss of a newborn child brings a sorrow that is deeply felt by both the parents and their caregivers. We share in the heartbreak of the Mayotte family and hope that each individual affected by this tragic event will reach a place of healing."
Medical Center Accused of Protecting a Bad Apple
After a newspaper report alleged that a Manchester, New Hampshire, hospital had shielded a cardiac surgeon who had been involved in 21 malpractice settlements, the hospital, Catholic Medical Center, hired a law firm to conduct an "independent, external review" of its cardiac surgery program, Becker's Hospital Review reports.
Expected to take several months, the review "will evaluate the safety and quality of the hospital's cardiac surgery program." It will also touch on several hospital policies, including how hospital officials handle physician concerns about a colleague. A special committee of the board of trustees will facilitate the review, although neither the hospital's administration officials nor its medical staff will hold a seat on it.
The review was set in motion by a two-part investigation, released in September, by The Boston Globe. The target was a cardiac surgeon who had served at Catholic Medical Center until his retirement in 2019. According to the newspaper, the surgeon had one of the worst medical malpractice records in the country.
His colleagues often raised concerns about his performance, but the hospital continued to shield the doctor, who was said to earn up to $200,000 per case. After the newspaper report, however, Catholic Medical Center made clear it would hire an outside firm to review its "clinical oversight and accountability, peer review, and reporting processes."
The hospital's board chair said in a statement: "This review will help us understand what could have been done better in the past but, most importantly, it helps us chart a future based on industry-leading best practices."
The content contained in this article is for informational purposes only and does not constitute legal advice. Reliance on any information provided in this article is solely at your own risk.
Wayne J. Guglielmo, MA, is an independent journalist based in Mahwah, New Jersey.
For more news, follow Medscape on Facebook, Twitter, Instagram, and YouTube.
Source: Read Full Article