Medicare's 2023 draft physician fee schedule (PFS) proposes changes in policies for telehealth, opioid use disorder treatment, and dental services, as well as a plan for the limited use of fee-for-service funds to address social needs.
In addition, the draft rule would expand opioid treatment and recovery services, including a bid for wider use of mobile units, such as vans, to increase access for people who are homeless or live in rural areas.
The Centers for Medicare & Medicaid Services (CMS) on Thursday released the draft rule that also addresses behavioral health services, accountable care organizations (ACOs), and colorectal cancer screening.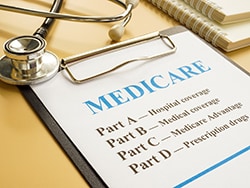 CMS said the proposed rule reflects current law, including keeping a key conversion factor flat, or a 0% update. This combined the expiration of the 3% increase in PFS payments for 2022 means the proposed calendar year (CY) 2023 PFS conversion factor is $33.08, a decrease of $1.53 to the CY 2022 PFS conversion factor of $34.61, CMS said.
While the staff of physician organizations will need time to fully examine the draft rule, which runs to about 2066 pages, the American Medical Association (AMA) expressed immediate displeasure with certain aspects of it.
"It is immediately apparent that the rule not only fails to account for inflation in practice costs and COVID-related challenges to practice sustainability, but also includes a significant and damaging across-the-board reduction in payment rates," said AMA President Jack Resneck Jr., MD, in a statement.
Anders Gilberg, senior vice president of government affairs at Medical Group Management Association (MGMA), said his group is "incredibly concerned" about a proposed 4.42% reduction to the conversion factor happening during a time of inflation, lingering COVID-19 pandemic issues, and a staffing crisis.
"These proposed cuts, coupled with the 4% PAYGO sequestration scheduled to take effect on Jan. 1, 2023, will have a detrimental impact on group practices," Gilberg said.
In contrast, the National Association of Accountable Care Organizations (NAACO) had quick praise for the draft rule. In a statement, NAACO Chief Executive Officer Clif Gaus, ScD, said proposed changes would help advance a CMS goal of having every person enrolled as a Medicare beneficiary in a relationship with a clinician accountable for his or her quality and total cost of care by 2030.
"Importantly, CMS projects today's proposed changes would save Medicare more than $15 billion and yield $650 million in higher shared savings payments to ACOs. We know the most successful alternative payment models are when providers are held accountable for patient outcomes for the entire year, as ACOs do," Gaus said.
Below is a recap of some of the major policy changes in the proposed rule:
Telehealth
CMS proposed making several services that are temporarily available as telehealth services due to the public health emergency (PHE) available through 2023 on what's called a Category III basis.
This will allow more time for collection of data that could support their eventual inclusion as permanent additions to the Medicare telehealth services list, CMS said. The agency also is proposing to extend the duration of time that services are temporarily included on the telehealth services list during the PHE, but are not included on a Category I, II, or III basis for a period of 151 days following the end of the PHE.
Behavioral Health
The proposed rule also includes a plan to allow licensed professional counselors, marriage and family therapists, and other types of behavioral health practitioners to provide behavioral health services under general (rather than direct) supervision. Additionally, CMS also is proposing to pay for clinical psychologists and licensed clinical social workers to provide integrated behavioral health services as part of a patient's primary care team.
Chronic Pain
CMS said it is proposing to bundle certain chronic pain management and treatment services into new monthly payments, improving patient access to team-based comprehensive chronic pain treatment.
Use of new Healthcare Common Procedure Coding System codes and valuation for chronic pain management and treatment services would prompt more practitioners to welcome into their practices more people enrolled in Medicare who have chronic pain, CMS said. These proposed changes also could encourage practitioners already treating people enrolled in Medicare who have pain to spend the time to "help them manage their condition within a trusting, supportive, and ongoing care partnership," CMS said.
ACOs
CMS is proposing a way that funds for certain new Medicare Shared Savings Program ACOs could be used to address social needs.
"The expectation is that this proposal, if finalized, would be an opportunity for many providers in rural and other underserved areas to join together as ACOs, building the infrastructure needed to succeed in the program, and promote equity by holistically addressing patient needs, including social needs," CMS said in a fact sheet.
CMS is also proposing that smaller ACOs have more time to transition to downside risk, further helping to grow participation in rural and underserved communities. The agency also proposed a health equity adjustment to an ACO's quality performance category score to reward excellent care delivered to underserved populations.
Colon Cancer Screening
CMS is proposing that a follow-up colonoscopy to an at-home test be considered a preventive service, which means that cost sharing would be waived for people with Medicare. Additionally, Medicare is proposing to cover the service for individuals 45 years of age and above, in line with the newly lowered age recommendation, down from 50.
Dental Services That Are Integral to Covered Medical Services
Medicare Part B currently pays for dental services when that service is integral to medically necessary services required to treat a primary medical condition, such as reconstruction of the jaw following accidental injury.
In the draft 2023 pay rule, CMS is proposing to cover more dental services, such as examination and treatment preceding an organ transplant.
In addition, CMS is seeking comments on other medical conditions where Medicare should pay for dental services, such as for cancer treatment or joint replacement surgeries, as well as on a process to get public input when additional dental services may be integral to the clinical success of other medical services.
Opioid Use Disorder
CMS said it is seeking to increase overall payments for medication-assisted treatment and other treatments for opioid use disorder (OUD), recognizing longer therapy sessions are usually required.
Based on the severity of needs of the patient population diagnosed with OUD and receiving services in the treatment programs, CMS proposed modifying the payment rate for the non-drug component of the bundled payments for episodes of care to base the rate for individual therapy on a crosswalk code describing a 45-minute session, rather than the current crosswalk code describing a 30-minute session.
CMS also is proposing to allow the opioid treatment program (OTP) intake add-on code to be furnished via two-way, audio-video communications technology when billed for the initiation of treatment with buprenorphine. This would apply to the extent that the use of audio-video telecommunications technology to initiate treatment with buprenorphine is authorized by the Drug Enforcement Administration (DEA) and Substance Abuse and Mental Health Services Administration (SAMHSA) at the time the service is furnished.
The federal agency also is proposing to permit the use of audio-only communication technology to initiate treatment with buprenorphine in cases where audio-video technology is not available to the beneficiary and all other applicable requirements are met.
In addition, CMS said it will clarify policy such that opioid treatment programs can bill Medicare for medically reasonable and necessary services furnished via mobile units in accordance with SAMHSA and DEA guidance. CMS is proposing that locality adjustments for services furnished via mobile units would be applied as if the service was furnished at the physical location of the OTP registered with DEA and certified by SAMHSA.
Kerry Dooley Young is a freelance journalist based in Miami Beach, Florida. She is the core topic leader on patient safety issues for the Association of Health Care Journalists. Follow her on Twitter at @kdooleyyoung.
For more news, follow Medscape on Facebook, Twitter, Instagram, and YouTube.
Source: Read Full Article