London: Politicians spend their waking moments trying to please people; rarely do they succeed but London's Mayor Sadiq Khan has Jamie Oliver elated.
"It's a big day for all the sort of stuff you've heard me rant about for fifteen years," says the childhood obesity campaigner speaking to Fairfax Media from Jamie Oliver headquarters in north London.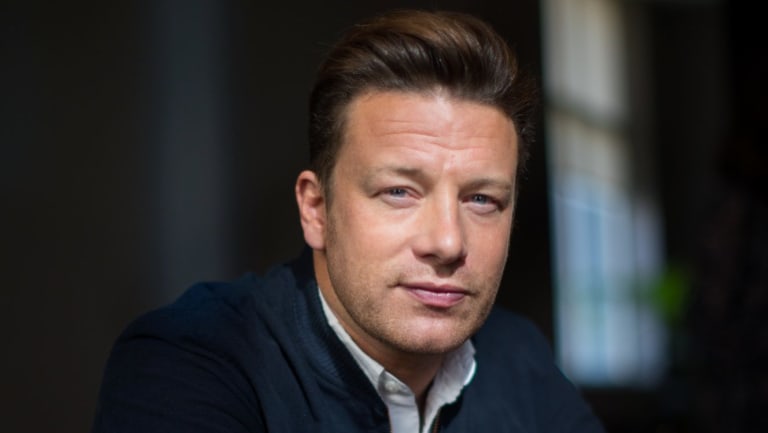 Jamie Oliver thinks Australia should follow London's junk food ad ban.
On Friday, Khan announced a policy aimed at easing the pressure parents face from their children to buy them junk food.
"In the future, you won't be be able to advertise foods high in fat, high in sugar and high in salt on the tubes, on the trams, on the buses and on the London overground," the Labour Mayor said.
A junk food advertising ban was trialled on a smaller scale in Amsterdam, where the Mayor has overseen a 12 per cent reduction in the number of children deemed overweight or obese in just three years since announcing a multi-faceted childhood obesity policy.
London has one of the highest childhood obesity rates in Europe with four out of ten children regarded as obese or overweight.
"And if you're obese as a child you're probably going to be obese as an adult," Khan said.
Transport for London is one of world's the biggest advertising revenue generators in a city with a population of 9 million.
"We're talking about a population nearly half the size of Australia," Oliver says.
"Sadiq's lever is the largest advertising real estate on the planet, that's 30 million journeys a day so for him to do this today, its not cute – it's f–king awesome, this is like – gamechanger!
"My instinct is you'll see a lot of change from here, one that will protect kids, empower parents and address the most disadvantaged communities for the better."
If it goes ahead, Khan's ban will also apply to "directional advertising" like arrows marking the distance to the nearest "Maccy D's" (British slang for MacDonalds) and potentially prohibit the opening of new junk-food stores within 400 metres of any school.
"When you draw 400 metres around every school in London there's not much space left for KFC to open – so they're pissed," says Oliver.
Khan's ban is out for consultation but Oliver says for the first time, he feels like the conditions in Britain are right, to get a holistic strategy targeting childhood obesity up once and for all.
"I feel hope," he says and it's not just for Britain where he has regained the ear of those in number 10, with Downing Street due to announce the second tranche of it's childhood obesity strategy, but for other countries – particularly Australia where 1 in 4 children are either overweight or obese, according to the Australian Institute of Health and Welfare.
Oliver agrees "100 per cent" that in the not-too-distant future we will regard sugar and junk foods as we do tobacco.
He believes restrictions on advertising junk food should go global but will require local tailoring.
"Other countries yeah – what you need is a clear, bold, multi-pronged, environmental shift wherever the ministry and government stand up and do their bit in central (federal) government," he says.
"And then the holy grail is also devolving enough power and support to let local mayors and states, say in Aussie, to be able to do what they do best which is local and the nuance that makes that part of Aussie or England.
"You can't compare Newcastle to Liverpool to London to Bristol, they're completely different."
Globally, the World Health Organisation says if current trends continue the number of overweight or obese children will rise to 70 million by 2025.
Oliver says it's "bullshit" to say he is out to deprive the public of takeaways and fizzy drinks.
"What we're trying to establish with these businesses is not that you can't have it, you can.
"We're just saying 40-years ago you were cute, now you're prolific. Forty years ago, we drink you as a treat, now you're hydration.
"We're trying to give you choice…and it's the right thing to do," he adds.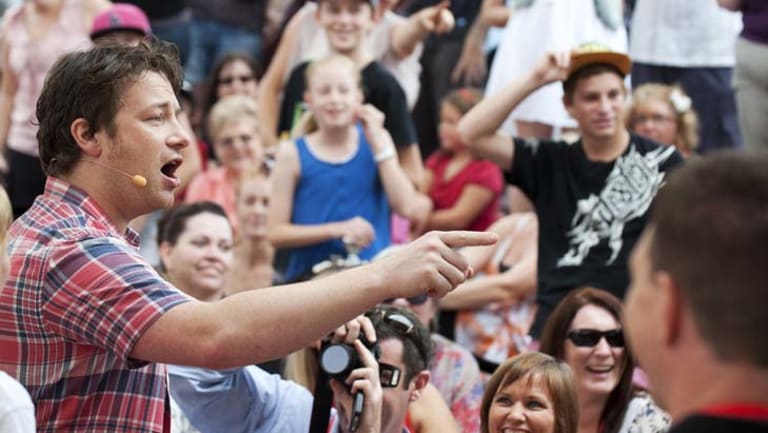 Jamie Oliver engages with the audience outside the first Australian Ministry of Food in Ipswich, Queensland.
Oliver is aware that as a multi-millionaire his critics easily brand him as an out-of-touch elite.
"Often they try and disempower me by saying 'what would you know you rich f—–?' Well how about loads more, because I've doing this for 15 years, we've got our hands dirty, we work in communities, we open multiple kitchens in the poorest areas, we're actually getting our hands dirty," he says.
"We've spent a lot of time telling these stories, not just in England, but in Aussie and America, – our first Ministry of Food centre (which teaches cooking classes) in Australia was Ipswich."
Source: Read Full Article