It's been 25 years since the nuclear meltdown at Chernobyl became the largest man-made disaster in world history. After years spent studying the abandoned land in the exclusion zone and surrounding areas, a team of scientists have produced an artisanal spirit called Atomik, made using fruit grown and harvested in the disaster zone.
Led by University of Portsmouth professor Jim Smith, the team sourced apples from the Narodychi District – where land can't officially be used for agriculture, but people still live – to make the spirit. The Palinochka Distillery, located in the Carpathian Region of Ukraine, distilled the fruit to produce 1,500 bottles of a fairly punchy 42% ABV booze.
You might have to wait a while to get your hands on a bottle. The batch "was seized on leaving the distillery and remains in the hands of Kyiv prosecutors," following an investigation by the country's secret services. "It seems that they are accusing us of using forged Ukrainian excise stamps, but this doesn't make sense since the bottles are for the UK market and are clearly labelled with valid UK excise stamps," said Professor Smith.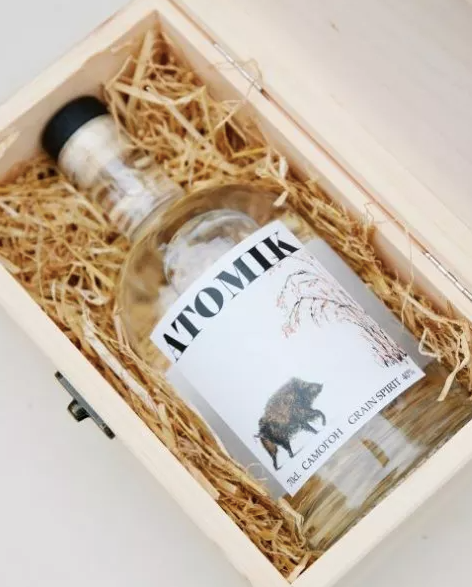 It's the latest in a long line of challenges for the scientists, who set up The Chernobyl Spirit Company as a social enterprise to support the continued recovery efforts. Dr. Gennady Laptev, who worked at the site in the first weeks after the accident, said: "We hope this issue can be resolved so that we can continue our work trying to help people affected by the devastating social and economic impacts Chernobyl had on communities."
Drinking booze made from produce grown in radiation-contaminated land might sound dangerous, but apparently, it's not the health risk you'd expect it to be. Atomik was originally a vodka, made using rye grain sourced from a farm within the exclusion zone – and when it was tested by The Ukrainian Hydrometeorological Institute and the University of Southampton GAU-Radioanalytical, there was no trace of radioactivity in the spirit.
"In many areas land could now be used to produce crops which are safe to eat," the Atomik website reads. "As every chemist knows, distillation of fermented grain leaves many heavier elements in the waste product so the distillate alcohol is more radioactively 'pure' than the original grain. We have used distillation to reduce radioactivity in the grain even further to make a product from Chernobyl which we hope people will want to consume."
Source: Read Full Article